[still from
The Kid
, 1921]
The Romani are
widely dispersed
with their largest concentrated populations in
Europe
, especially the
Roma
of
Central and Eastern Europe
and
Anatolia
, followed by the
Iberian Kale
in
Southwestern Europe
and
Southern France
, with more recent diaspora populations in the
Americas
and, to a lesser extent, in other parts of the world.
Their Romani language is divided into several dialects, which add up to an estimated number of speakers larger than two million.[17] The total number of Romani people is at least twice as large (several times as large according to high estimates), and many Romani are native speakers of the language current in their country of residence, or of mixed languages combining the two.
. . . .

The English term Gypsy (or Gipsy) originates from the Greek word Αιγύπτιοι (Aigyptioi, whence modern Greek γύφτοι gifti), in the erroneous belief that the Romanies originated in Egypt, and were exiled as punishment for allegedly harboring the infant Jesus.[26] This exonym is sometimes written with capital letter, to show that it designates an ethnic group.[27]
As described in Victor Hugo's novel The Hunchback of Notre Dame, the medieval French referred to the Romanies as egyptiens. The term has come to bear pejorative connotations. The word "Gypsy" in English has become so pervasive that many Romani organizations use it in their own organizational names.
. . . .
In 1919, Chaplin
[of Romani background]
co-founded the
United Artists
film distribution company with
Mary Pickford
,
Douglas Fairbanks
and
D. W. Griffith
, all of whom were seeking to escape the growing power consolidation of film distributors and financiers in the developing Hollywood
studio system
. This move, along with complete control of his film production through his studio, assured Chaplin's independence as a film-maker. He served on the board of UA until the early 1950s.
[
The Gre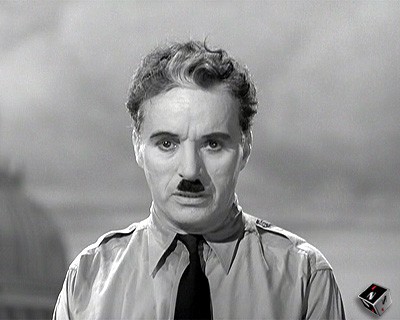 at Dictator
, 1940]